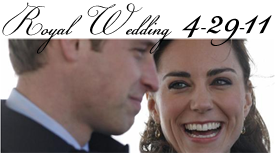 Details of the latest royal wedding trickling into the news media serve as a distraction from reports of war and natural disasters. The upcoming wedding of Prince William and Kate Middleton has folks around the world, who would ordinarily never think of such things, discussing wedding dresses and floral design and who will be invited and who won't.


The wedding of William's parents, Charles and Diana, generated similar buzz back in 1981. I had just turned 12, and I sat—bleary-eyed but entranced—by a grainy live broadcast of the wedding of the century in the wee hours of the morning.
We, as believers, are members of heaven's royal family, princes and princesses of the King of Kings and Lord of Lords. Whether we realize it or not, the world's obsession with royal weddings hints at what they hunger to see among the children of God. So what can we learn? Here are three thoughts we can apply to our own royal marriages.
The whole world is watching with hearts full of hope, daring to dream that romance is real, true love exists, and happily ever after is a legitimate possibility.

Everything might look good on the outside, but if our personal relationships (what is said and done when no one is watching or listening) are soured and spoiled, none of the pretty pictures matter.

If you were married to the Prince of _______________, how would you treat him differently than you treat that fella who fell asleep on the couch while you did the dishes, who left his grubby socks on the bathroom floor and forgot your last anniversary? The correct answer? No differently at all. (ouch)
(originally posted at The Pastor's Wife Speaks)