When I was little, I did battle with the elementary school librarian to be permitted to read the books reserved for the upper elementary school students. I had to read the first page of "The Witch of Blackbird Pond" out loud to her. (That was the particular book I wanted to read at the time.)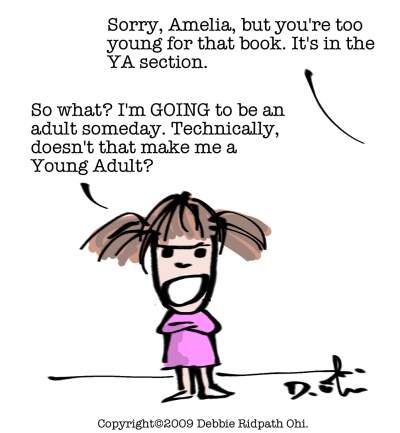 When I succeeded, she sighed heavily and released me from the Dick and Jane, See Spot Run shelves to the "big kid" books. I never looked back, always reading ahead of my age group. I bypassed Sweet Valley High for M.M. Kaye and Jude Devereaux before I was out of junior high.

So what in the heck am I doing with a pile of Young Adult books from the library? YA novels are wildly popular with OA (Old Adults?) these days. I finished Hunger Games by Suzanne Collins today. Her dystopian tale falls into the "can't-put-it-down" category reserved for only a few books. Scott Westerfeld's Uglies is next on my list.
What's the appeal? I could blame it on my impending 40th birthday. Or the fact this perimenopausal phase is distressingly similar to puberty in reverse (complete with zits, weird hair, and a flare-up of my rebellious streak). Or I could blame it on the wildly popular Twilight series, my first foray into the realm of YA fiction.
What I'm finding as I devour these novels is an attraction for the stories, plain and simple. They're fresh. What I've read so far hasn't been pumped up with scenes of illicit sex, gratuitous violence, or stereotypical religious characters. They remind me of the tales that swept me into other realms and times and scenes when I actually WAS a young adult.
Maybe it's just time to stop limiting myself to small sections of the library, or the bookstore!