I should be more disciplined. I should be friendlier. I should be less introverted. I should have finished the housework. I should have more faith. I should be nicer to my husband and children. I should stop being afraid to drive in the snow, to make phone calls, to travel. I should send more money to missions. I should be a better example. I should have had this blog post done yesterday. I should be out of my pajamas, since it's noon. And so on…
There's not a day in which I don't wake up with a load of shoulds on my shoulders and go to bed with a heap of shoulds in my head.
This. Is. Not. Normal. (or healthy)
Example: Husband says, "We're out of mayonnaise." My automatic reply, "I'm sorry." Husband (not afflicted by the shoulds) says, "Why are you sorry?" My response, "Because I SHOULD have noticed we were running low and picked some up at the store." Hubby shakes head.
As long as my brain is full of shoulds, I never feel finished. Never quite done. Never quite good enough. We're doing a Bible study at church about grace. I got stuck on the lesson about pleasing God. If you are a should-er, pleasing God (or anyone else) seems impossible. However, Romans 12:1-2 says we can be transformed by the renewing of our minds, and that when we do, we'll prove (know, understand) the goodness of God's perfect will.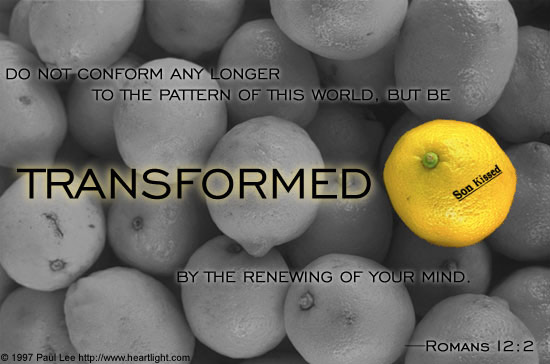 So I must first become aware of the shoulds in my thinking before they affect my spiritual, emotional, and physical state. That, for me, will be step #1. Some of these shoulds are so deeply rooted in my psyche it may take time to locate them all!
I discovered step #2 in a wonderful post at The Art of Manliness. (I know, I'm not a man, but this site has some great writing!) The author suggests substituting "I should" with "I choose." I like that, it's proactive instead of reactive.
Can anyone else relate to this? I know I'm not the only should-er out here!
What have you done, or might you do, to stop should-ing on yourself?