This time of year everybody wants to pull out their Irish family tree, branch, twig, or leaf to participate in the celebratory spirit of St. Patty's Day. There's green beer and leprechauns and shamrocks. There's the "wearin' o' the green" and green eggs and ham (wait, that's Dr. Seuss, and I don't think he was Irish.)
All my favorite historical romances were set in the British Isles or the Wild West, places where my ancestors roamed. I have a lot of German heritage, too, but I've never seen a romance novel set in Germany, historic or otherwise. Maybe it has something to do with the language. Let's face it, German is just not as pretty as Gaelic. And who doesn't go weak in the knees for a good Irish brogue or Scottish burr?
A poetic bunch, these Irish are. "Irish blessings" abound. More than mere rhyming verses, more than prayers lifted into the heavenlies. These are declarations of faith, decrees of safety and health and well-being spoken over friends and family and loved ones.
To bless is to "speak well of" someone or something. To curse is simply the opposite, to speak evil concerning someone or something.
How easy it is to speak ill or evil of ourselves and of those we love the most. How easy to declare over our children that they are clumsy, foolish, or lazy. Or to curse the creation of our own bodies, or a perceived lack of wisdom or motivation in a spouse. People we wouldn't consider "cussing out" might be the same ones we're "cursing at."
I'm taking a cue from my Irish heritage this week and declaring good will over the people around me, even when they get on my nerves and I'd really like to wallop them upside the head with something much bigger than a shamrock. That's the way to really celebrate St. Patrick's Day, beyond the corned beef and cabbage and making sure I wear something green to avoid getting pinched!
May the road rise up to meet you.
May the wind be always at your back.
May the sun shine warm on your face
the rain fall softly on your fields.
And until we meet again may God hold you
in the palm of his hand.
IRISH BLESSING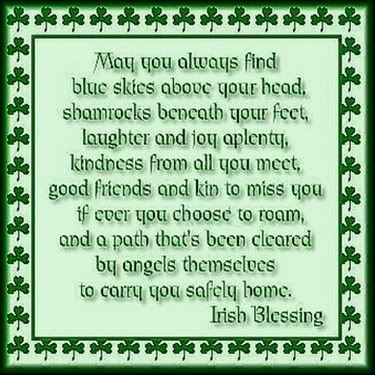 "May your days be many and your troubles be few.
May all God's blessings descend upon you.
May peace be within you may your heart be strong.
May you find what you're seeking wherever you roam."
Irish Blessing