You might think "ark" came up today because of all the rain we've been having, or the flooding, or the crazy weather patterns. Or you might think I have something to share about Noah's ark.

(Have you ever considered what a sad and horrific tale Noah's ark really is? Or how odd it is that we decorate nurseries and children's church rooms in Noah's ark themes?)
Actually, the ark I've been thinking about is the infamous Ark of the Covenant.
Yep, the one that terrorized us at the end of the first Indiana Jones movie, "Raiders of the Lost Ark."
Moses was directed to construct the first ark, a wooden box overlaid with gold and topped by a "mercy seat" and two cherubs. Within the ark Moses placed the Word of God, a sample of the manna that sustained the Israelites during their 40-year trek through the wilderness, and Aaron's rod – a stick which budded and blossomed to life supernaturally.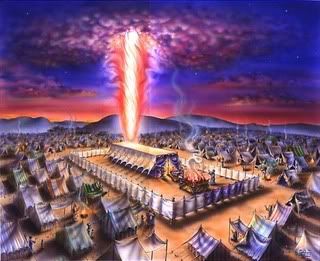 The ark was placed in the innermost chamber of the tabernacle, the Holy of Holies. The presence of God rested upon the mercy seat there. (God is a God of incredible mercy, in spite of the opinion of some.)
For the New Testament Christian, I believe the ark represents Jesus, our Savior and Lord. When Jesus was crucified, the veil (more literally a wall of fabric, some 8-12 inches thick) was torn in half from top to bottom … declaring the time for God's covenant to become available to all who would believe, not just a few who were born into it.
Setting aside the melting faces from Raiders, consider the following:
Jesus came in an physical, natural body… like a simple wood box.

He brought the mercy of God to a lost and dying world. Mercy triumphs over judgment.

He is our source of supply and provision, the One who meets our needs according to His riches in glory.

He is incorruptible and unchanging, like the gold that covered the ark.

To believe in Him is to receive everlasting, eternal life. You might feel like a dead stick, but God can give you a blooming, fragrant life.

A host of angels accompany Him, commissioned to carry out His will. In other words, you've got HELP!

God has sworn to be true to His word. His word is His will. What He has promised, He will perform.
Although there's significant debate about whether the cross of Christ was made of cedar, olive, or acacia wood, we know from Scripture that the ark was made from acacia wood. Interestingly, acacia trees were common trees in the region. Easton's Bible Dictionary surmises that the burning bush Moses encountered in the desert may have been an acacia. And as various species of the tree produce long, tough thorns, it's possible the crown of thorns worn by Christ before His crucifixion was made from acacia limbs.
The Israelites knew that as long as they had the ark, they had protection and power and safety and peace. When the ark went with them, they had victory over their enemies. When the ark was, for a time, lodged in the household of Obed-Edom, his household prospered.
And now we have a "new and better covenant" with greater promises than the Israelites had, our own personal "ark," Jesus.
I've been considering taking part in a meme for several months. But every time I come across one I like, it's almost over! Enter Patty Wysong (author of one of the first blogs I ever subscribed to) and the brand-spanking new a2z4u and me meme) I'm pleased to announce that my Wednesday posts for the foreseeable future will be part of this meme, beginning today with the letter "A." (I love A-Z things. They remind me of Sesame Street and alphabet books and Indian Chief tablets.) Are you a blogger? Want to blog but don't know where to start? Come and play!